Apply Now to Impact Tomorrow
Supporting students is one of the best ways to prepare for the future. Together, we can improve student learning and college retention by connecting students with other college students, professional instructors, and teachers. And hey, you can make some money in the process.
---
Flexible for Your Teaching Style
Use chat, audio, video, and the virtual whiteboard to teach in a way that makes sense for you.
Real-Time & Interactive
Understand exactly where a student may need additional support by working through problems and talking through solutions.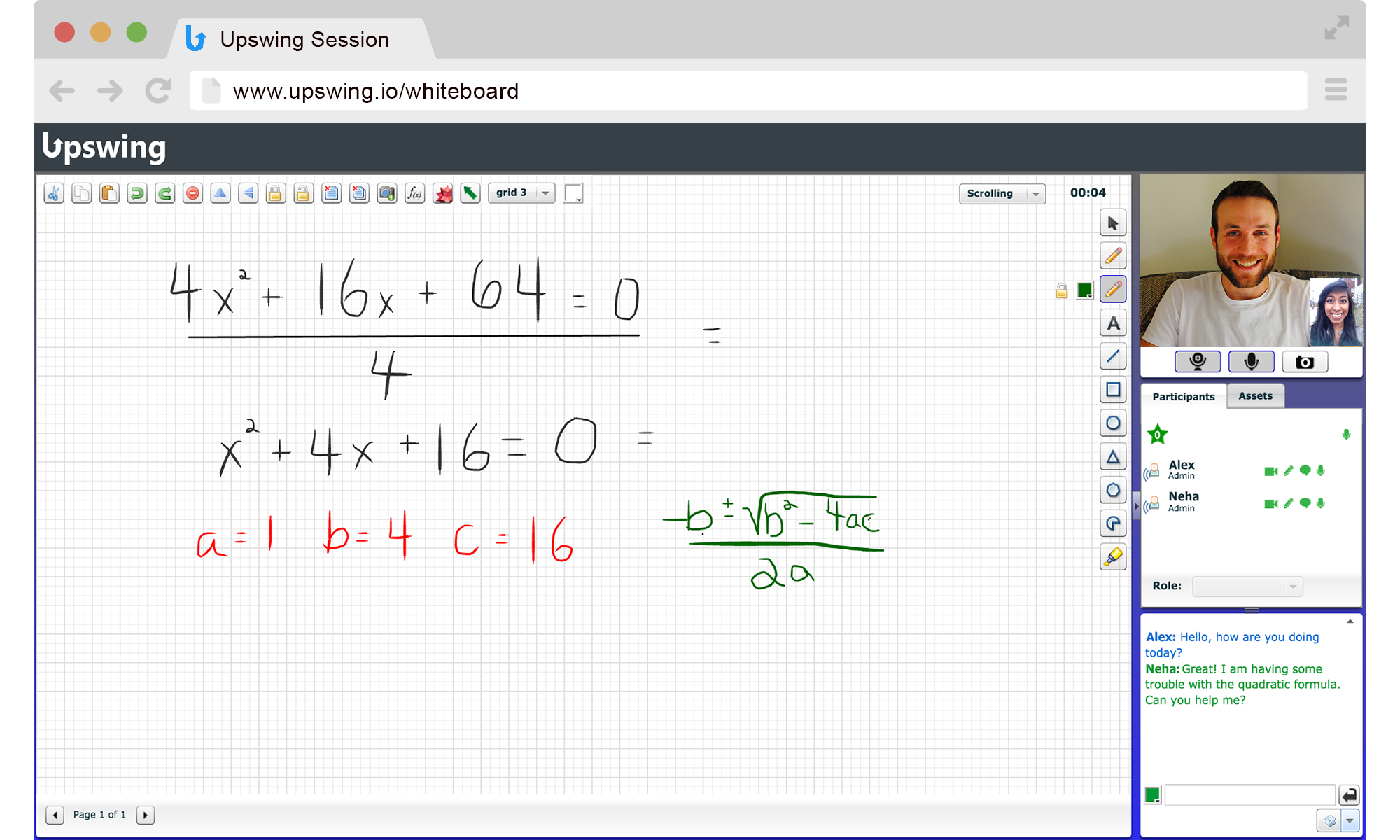 Flexible Working Location
All Upswing sessions occur online, so you have the ability to work from the comfort of your own computer. All you need is a working internet connection to start!
Set Your Own Schedule
Pick your own working hours, and choose whether you want to only offer a few hours per week or work with students every night and on weekends.
Make Some Extra Money
Get paid for every session you complete! Being an Upswing Coach is the perfect job for a college student, instructor, or professional tutor looking to make a few extra dollars.
---
Create an Account in Minutes!

1. Build a Profile
Start by registering your email address and entering in profile information about yourself. Information like name, education, experience, and a profile picture help to show off your expertise to students before they select you as their coach!

2. Verify Your Identity
Verify yourself through either Facebook or LinkedIn. We'll use this information to validate your identity and. Don't worry, we wont post to your account without your permission first!

3. Select Subjects of Expertise
Choose the subjects that you feel comfortable teaching. The subjects that you are able to provide include areas like math, science, foreign language, and even mentoring. We'll then gauge which subjects you are an expert in and which may need improvement.

4. Set Your Schedule
Set your own schedule and choose the dates and times that work best for you. After obtaining a coach account, you will also be able to set your status to "Online Now" if you want to provide immediate coaching to student.

5. Complete a Session
After completing your registration, we'll take you through a demo of how the virtual learning center works. After that, it's up to you to respond to student session requests and begin using Upswing!